Good Wear Resistance Hot Rolling Grinding Balls
Good Wear Resistance Hot Rolling Grinding Balls
HY

China

20-45 days

50000T
the Hot rolling grinding balls produced by advanced automatic rolling machine ( Grinding Balls from 20mm-70mm) + Labor Air Hammer ( 80mm-150mm) with special Heating treatment and strict quality control systerm , which make our grinding balls high performance

Grinding balls 'Raw Material Purchase : Strategic partnership with standard steel enterprise and sign the long term agreement (50,000 Tons annually ) Purchase directly from Chinese famous standard steel enterprise , such as laigang Group, HBIS, ANSTEEL, XIWANG Special steel .

We have special department of QC teamwork .The QC department director have 10 years experience in this industry . The team is responsible for inspection during production , inspection before delivery .( Forged Steel Grinding balls Surface and core hardness test each day each batch and all will be recorded and filed in documents ) .
Hot Rolling Grinding balls raw material quality control
Haoyang will send cutomer the pictures of the steel Certificates of the steel bars before starting the production showing the heat number and amount in tons per heat. The heat number shall be painted on the steel drums where the balls are packed ! Where will we buy the steel ? Directly from the famous China Steel company or whose qualified distributors , including Laigang Group , HBIS, Xiwang Group, Huaigang Special Steel and An Steel Group . We only choose formal steel group enterprice as our long-term steel supplier .As the strategic partnership with steel group , the reasonable price could be given to us under different steel situation . Direct manufacturer of Grinding balls , Steel grinding ball and forged steel balls Guarantee Quality and Save Cost are our production principles . 80% fund and energy are contributed to the production equipment and technology. Company will strictly save cost in other aspects . To some extent , which will enable us have lower cost of forged grinding balls and grinding steel balls than any other big enterprice . Grinding balls as the bulk , Low-tec and Low-value consumption goods, price is pretty important for outsoucing. if not , both sides will have no profit . business means profit , no profit , no business ! When choosing grinding media balls supplier , pls ask the manufacturer firstly who are their real raw material supplier and what steel price they could get ?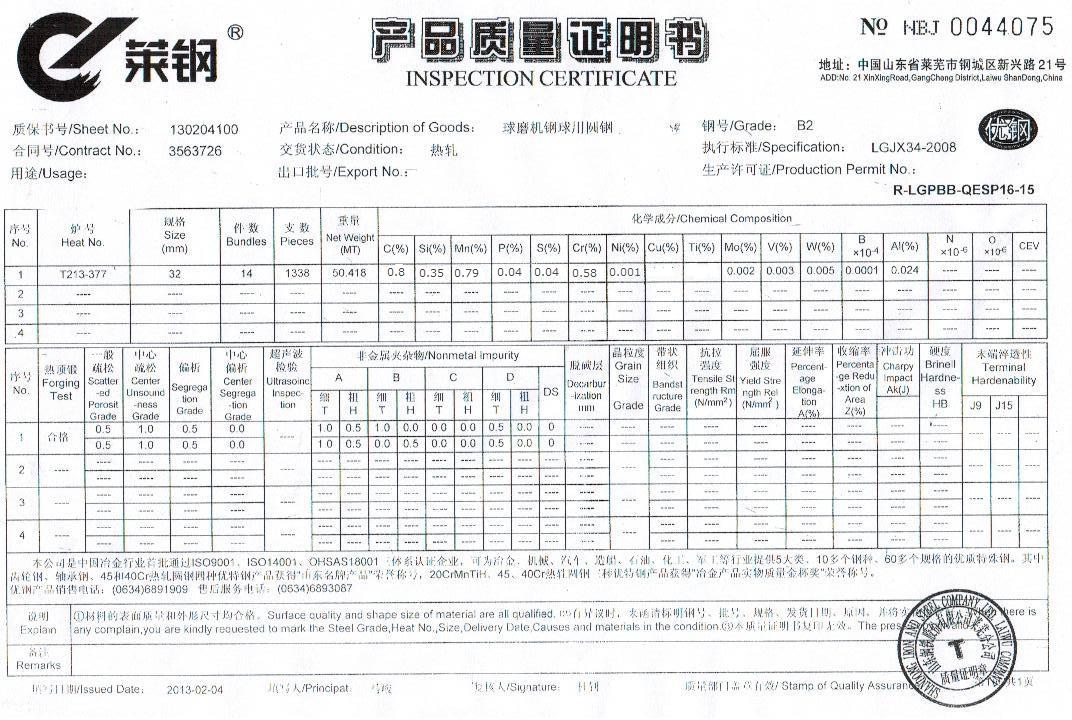 Hot Rolling Grinding balls
We have on offer for our customers a vast range of Forged Grinding Media Balls in various sizes and technical specifications. Steel, carbon, manganese, phosphorus, silicon, sulfur, chromium and others are utilized in the manufacturing process of these types of grinding media balls. Extensively utilized in grinding and milling applications, these products have helped us garner a rich clientele in the market.
Specifications:
Balls diameter (mm): 125, 100, 90, 80, 75, 70, 65, 60, 50, 40, 30, 25, & 20

Forged Steel Grinding Media Balls inspected by SGS or other third party inspection company as your requirements .
The forged steel grinding ball is excellent in surface quality , toughness, and resistance to impact and abrasion . It won't crack and lose circularity easily. The forging and stamping method that we use is that heating the metal until the temperature reaches the suitable degree.Each process will be controled by responsible worker . and if there is any problem about each process, all the production will be stopped !
Hot rolling production :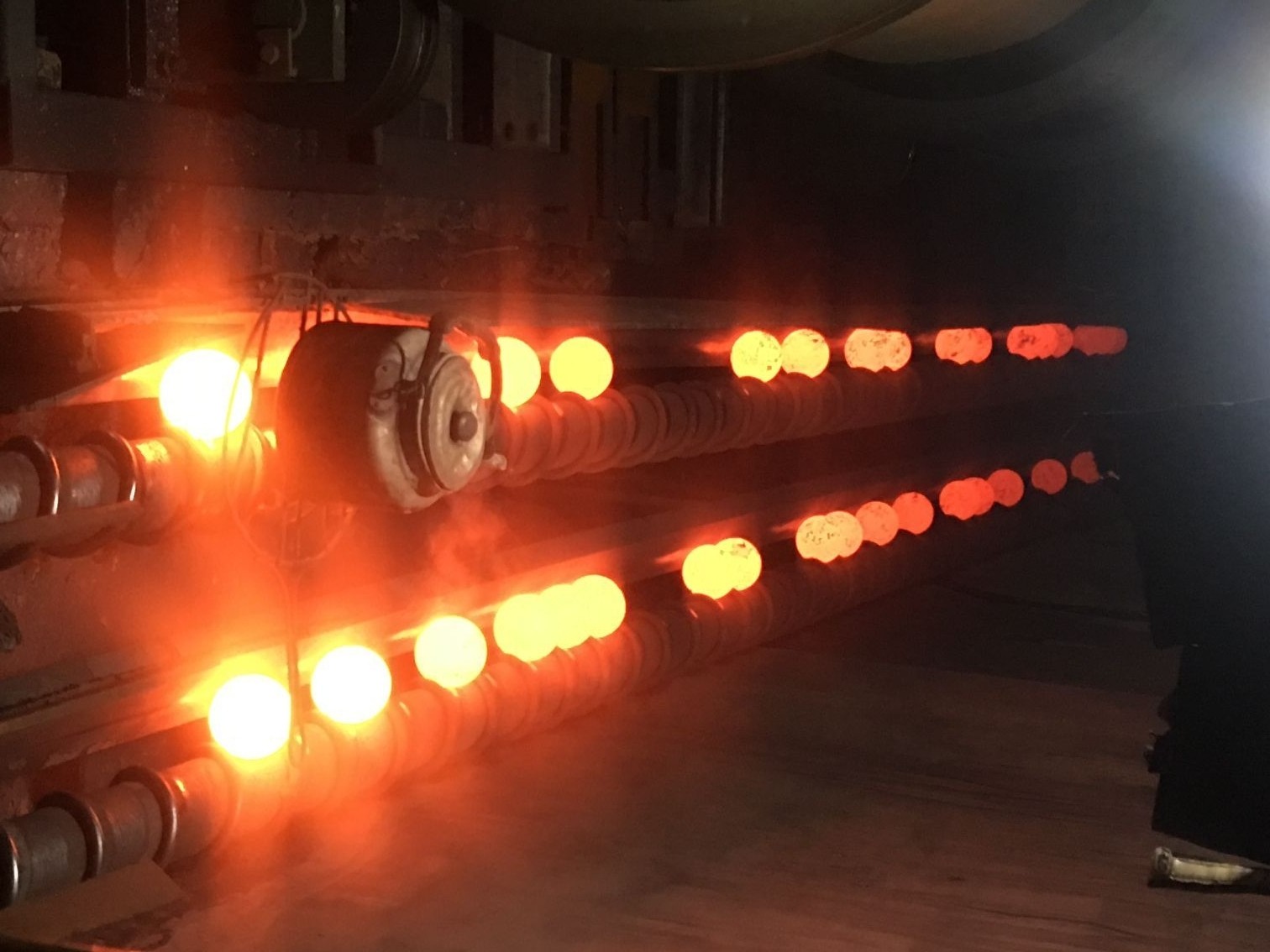 At present , Grinding media balls production mainly use 2 production technique : one is Hot rolling , another is Air hammer Forging
HY usually produce 20mm-60mm by Hot rolling machine and 70mm-150mm will be produced by labor air hammer .
The advantages of Hot rolling grinding balls : High Productivity and output ; Better surface ; better work condition and save labor cost
The rolling process of grinding ball was developed from the former Soviet Union and it is also called helical rolling technique. The equipment mainly includes two rollers which cross each other and rolls around their own axes, the rolled piece is driven to move forward by the friction force between the roller and the rolled piece itself. Usually, the rolled materials are medium carbon steel, low alloy steel and medium alloy steel. Due to the steel bar can be used in rolling and be rolled continuously, the output of hot-rolling grinding ball is pretty high. Especially in recent several years, the forming technique of hot rolling grinding ball has a breakthrough progress.

Grinding balls Production Process :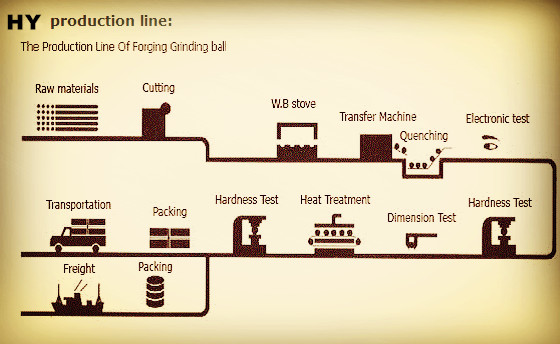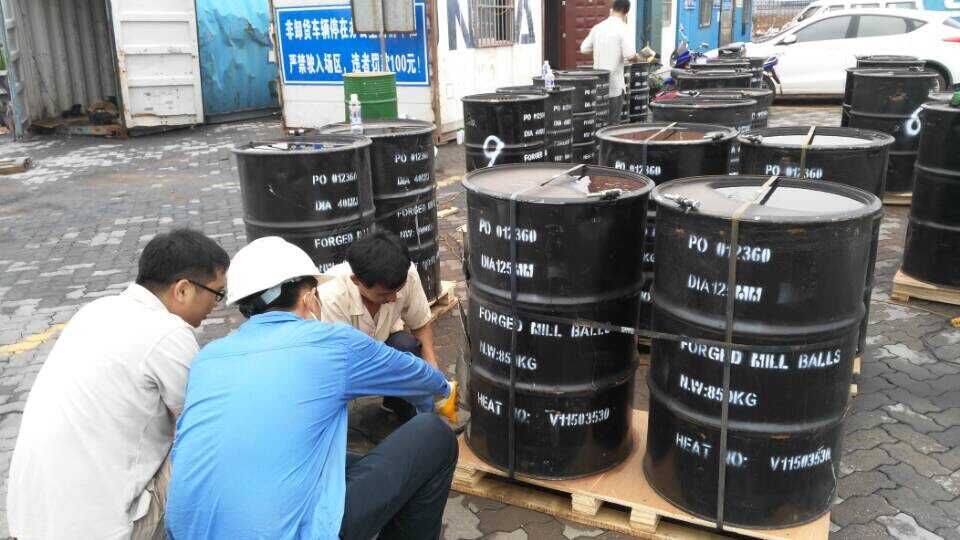 Why choose us ?

1. Strategic Partnership with standard steel enterprise and sign the long term agreement ( 50,000 Tons Annually ) Purchase directly from Chinese famous standard steel enterprise , such as Laigang Group , HBIS, ANSTEEL , XIWANG SPECIAL STEEL .
2. Our vice Director Mr Chen as the grinding balls' technology specialist is personally responsible for the steel purchasing . (Negotiating , Sign Contract with steel company , Steel elements Matching confirmation and inspection
3. Stable Delivery time
4. Each batch steel label will be taken photo and recorded ( Steel company name, Description of goods , Specification , Steel Grade, Heat Number , Production Date and etc.. ) for Tracking in future 5 years !
5. The steel will be inspected by spectrograph When into our factory
If there is any problem with the chemical composition , all the steel will be returned back to steel company
6. Information exchange of Steel price tendency
Cooperation case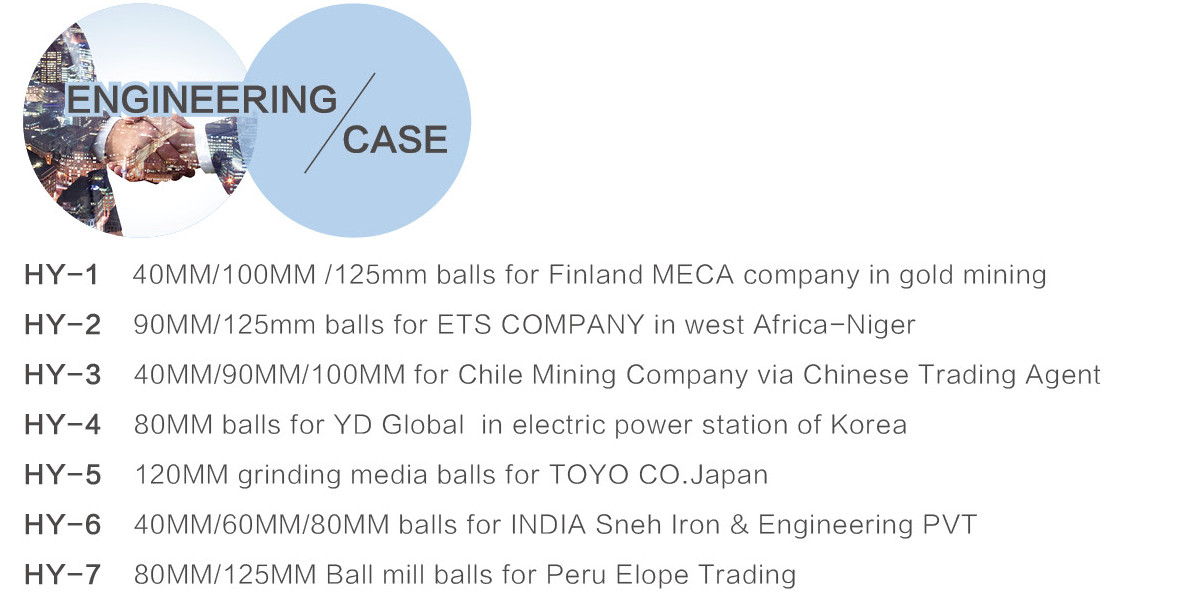 Haoyang manufacturing grinding balls of European quality :
Jinan Haoyang Casting & Forging Co.,ltd is one of the leading grinding media manufacturer in China .Our products are designed for grinding of raw materials by cement plants, energy generating companies, ore mining and industrial processing facilities, construction materials plants located in China . Haoyang steel balls manufacturing plant was put into operation in June 2008.Today, we deal with continuously growing consumer requirements for operational properties of grinding media, what directly affects ball mill prices and quality, efficiency of equipment and the enterprise in general.
The plant was built using the most advanced equipment. Through the use of modern technologies and cooperation with a number of research organizations, we managed to achieve very high levels of quality in grinding steel balls. Despite its short history, Haoyang managed to become a manufacturer of quality grinding media for ball mills, as well to keep its position on both the domestic and overseas markets .The operational properties of steel balls produced by Haoyang allow to significantly reduce the consumption of grinding balls and power, to increase grinding fineness of raw materials, to decrease the number of mill repairs and, consequently, to increase their productivity.